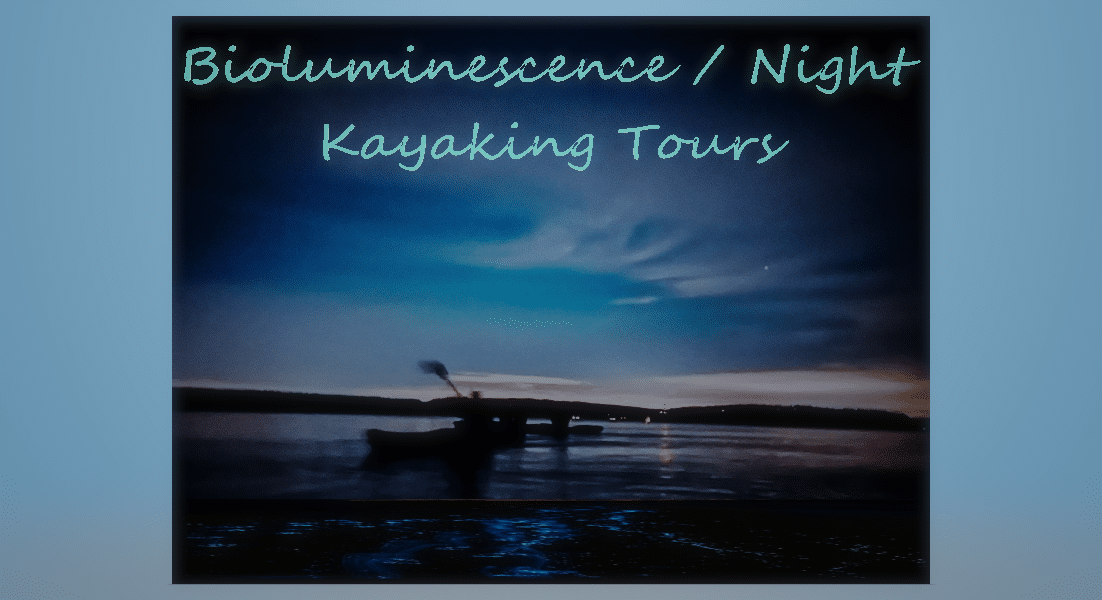 SOLD OUT FOR 2023
View bioluminescence from your kayak on this magical 2 hour guided night tour! As you paddle through the waters, bioluminescent plankton will light up like fireflies. The more you splash and agitate the water with your hands and paddles the more you will make the water sparkle! And don't forget to look up to stars! We may also see the beautiful moon, meteors, bats and maybe hear a squawking heron or a startled harbor seal.
We have a 100% success rate for seeing bioluminescence on our tours in the last 4 years, however the amount and brilliance varies.  We do not have control over natural conditions.  We place you in the right place at the right time while giving you the tools and guidance on how best to "activate" it. We also have no control over differences in individuals night vision or other eyesight issues. We hope you appreciate the entire experience of being on the water at night, whether it be paddling with a full moon, meteor showers, nocturnal wildlife and simple peacefulness of this eerie and wonderful evening.
Kayaks and all safety equipment included.
No drugs or alcohol allowed. If we suspect your are intoxicated or smell alcohol on you, you will not be allowed to join us on the tour and you will not receive a refund.
Wear shoes that can get wet, synthetic clothing is best and bring a sweatshirt or light sweater for afterwards.
If we must cancel the tour due to weather, the full amount will be refunded to you. See our Frequently Asked Questions page for our refund and cancellation policies.
Your guides accept cash tips. Thank You!