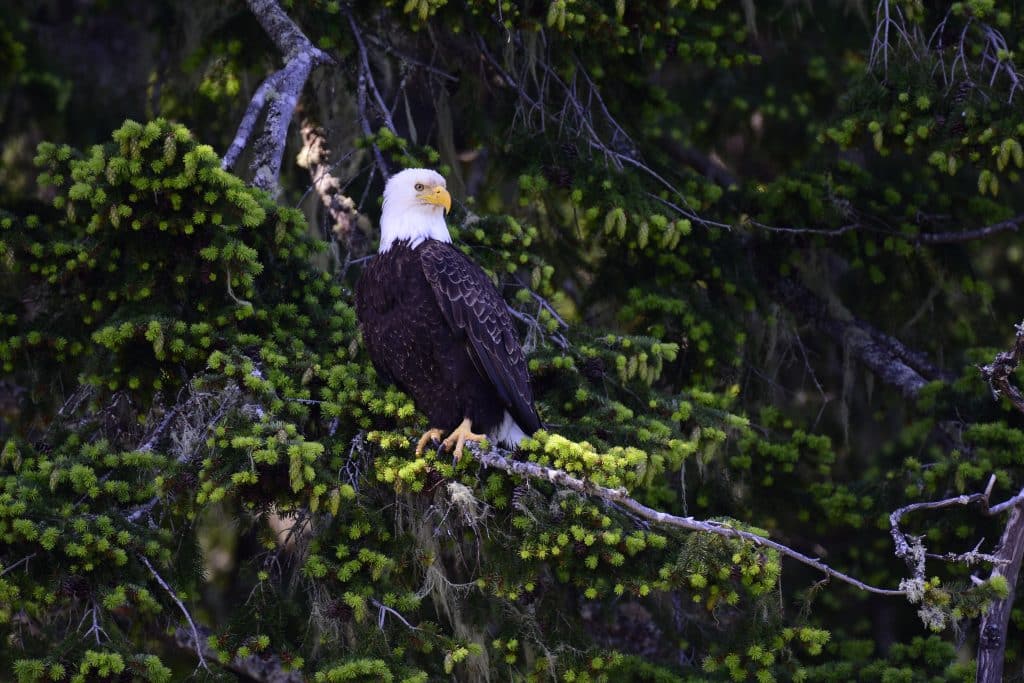 American Bald Eagle / Bald Eagle Tour May 2020
April through June Hood Canal Adventures offers a 2 hour American Bald Eagle Tour! Our Spring low tides uncover the bounty of the sea, and the plain midshipman sculpin spawning season serves up easy pickings for Bald Eagles. Bald Eagles from around the Puget Sound flock to the shores of the Hood Canal during this time. It is not uncommon to see 40 to 60 Bald Eagles on the beach and perched in overhanging trees, and some days we've seen over 100! Watch and learn about Bald Eagles with our Biologist and Naturalists and be sure to bring your camera for some rare up-close photos of eagles in their natural environment! Tour leaves from Yelvik's Beach.
There is a $5 per car parking fee to park at the launch site at Yelvik's Beach.  Your guide can take cash or credit card (+$.50) after the tour is completed and will convey it to the property owners.  The beach and campground is roped off to deter unauthorized entry. Simply unhook the rope, drive through, and reattach behind you.
YOUR GUIDES GREATLY APPRECIATE CASH TIPS.
What To Wear On A Tour: Dress for the weather! If it's hot bring a hat, sunglasses and sunscreen. If it's rainy or cool wear a rain jacket, hat, and a pair of water resistant pants. Shoes or sandals that can get wet are recommended. Remember, you'll be wearing a life vest which adds warmth and bulk so heavy jackets are not recommended. Most of our kayaks have dry hatches so you can always bring a little more than you might need if the weather is unpredictable. We also recommend bringing a bottle of water on all tours especially on hot days. Bring your camera and cell phone at your own risk. Most folks do, and there are rarely problems. Phone protectors can be purchased at the kayak rental trailer or at our shop.  We have a few loaner dry bags and we also have dry bags for sale at the shop (306146 Hwy 101 N, Brinnon).