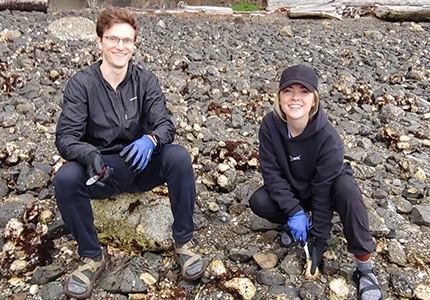 Our Oysters on the Beach Tour is half day adventure leaving from our location at Yelvik's Beach. We will paddle about an hour around breathtaking Pulali Point and into Dabob Bay viewing seals, eagles and other wildlife before arriving at a small secluded beach where we will eat lunch, go swimming (if it's warm enough), and learn to shuck oysters. Along the way your Marine Biologist or Naturalist guide will teach you about the Hood Canal and the wildlife we will encounter.
During crabbing season (July-Sept), you can also add kayak crabbing to your tour and catch your own Dungeness and Red Rock Crab! Bring your catch back to your vacation rental or campsite and cook them up for dinner! The amount of bald eagles we will see on this tour in the spring and early summer is staggering. Bring your camera as we usually see eagles up close as we paddle underneath their perching trees and watch them hunt fish often right in front of our kayaks! Harbor Seals, porpoises, river otters, fish, and many species of marine invertebrates are also a familiar site. More rarely, Orcas and Steller Sea Lions have been spotted.
Bring your own lunch or arrange with us to provide a sandwich lunch from Pleasant Harbor Galley ($16 each). Wear shoes that can get wet. Flip-flops and slip-on sandals are not advisable as there are many sharp oysters on the beach.
$25 per crab pot if crabbing during tour. If you do not see your desired date for this on our calendar, give us a call 360-301-6310.  We can schedule this tour almost any time of year.  You must provide your own WDFW shellfish license and bait to take your crabs home. Click on the link provided or visit the Brinnon General Store to obtain a crab fishing license.
If you do not see your desired date on the Calendar simply contact us to arrange another date.  We can conduct this tour almost any day of the year.
Your guide gladly accepts cash tips.